August 03, 2020
Students and Parents of Students:
After careful consideration, I have decided to continue music lessons in an online format this fall. This has been a very tough decision. If you have any questions, please call, text, or email using the contact information below.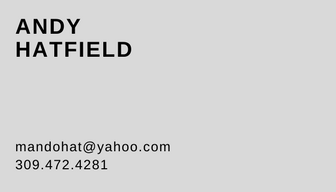 If you are interested, here are some of the guiding factors used to make this decision:
1. I teach over 50 students, whose families come from many different communities and schools. While there are only a handful of people in the office at any given time, I am a connecting point to hundreds of people throughout the community through students, parents, and their families. Because of the risk to the 1%, our parents, grandparents, and those with adverse health conditions, it makes the most sense to me to not take an unnecessary risk for music lessons, especially when there is an acceptable option available.
2. I still believe that an in-person lesson is superior, but am ok with the creative adjustment that both I and the students have had to make to learn in this new way. The thing I miss most has been playing songs with the students, something the technology doesn't allow. On the other hand, I've enjoyed seeing everyone's week-by-week progress. At the end of the day, students are still learning, playing, and progressing, and I'm excited to see it.
3. Regular fall illnesses like colds and flus make teaching in-person unpredictable, as I would have to respond to any illness as if it might be Covid. This would mean switching to online lessons if a student I had in the past couple days got sick, which seems inevitable.
4. Prior to making this decision, I looked into what the safest in-person lesson might look like. I talked to a physician friend, and have watched what other businesses are doing. It would involve some sort of plastic or plexiglass barrier between the teacher and student, masks, appropriate distance, and good ventilation. We would have to eliminate singing, and shorten lessons in order to allow for a thorough cleaning between students. These would not be unsurmountable challenges, but taking into consideration the risk of aerosol transmission that remains, along with a lesson format that isn't the most personal or comfortable (plexiglass shield and masks), I believe that continuing in an online format is our best option for our safety and comfort.
Thank you for reading this. If you have any questions, just let me know.
Andy