October Guitar Classes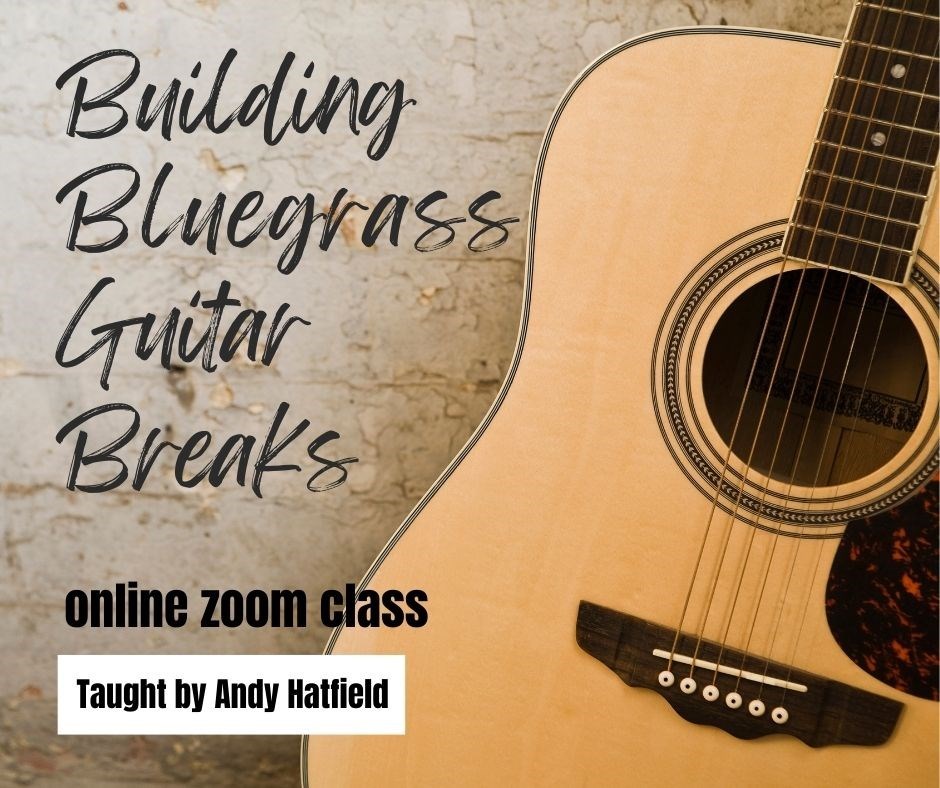 Building Bluegrass Guitar Breaks
2:00 PM EST or 7:00 PM EST
October 9, 16, and 23
Level: Intermediate
Do you struggle to create a convincing break for a bluegrass vocal tune? In this class, you'll learn how to create bluegrass guitar breaks that:
Are more interesting than a basic melody
Have a few cool runs or fills in them
Could work in a bluegrass song in a jam or on stage
Are playable with a bit of practice
Still sound like the song
Each week, we'll take a different bluegrass vocal standard, and step-by-step, create a guitar break. Starting with the melody and the chords, we add double-stops, fills, runs, etc, to create a great-sounding bluegrass guitar break, taking suggestions from the class along the way.
October 9: "No Mother or Dad"
October 16: "It Takes One to Know One"
October 23: "Dig a Hole in the Meadow"
After each class you'll receive:
A PDF tab of our completed break
A brief video recap of what we did in class*
A video performance of the completed break
Cost: $75 for all 3 classes, or $30 for any 1 class.
All 3 Classes -- $75

Any 1 Class -- $30
You can see some of Andy's teaching style in the YouTube video below. The difference between a class and the video is your interaction! Andy takes questions and suggestions from the class along the way, and writes it all down in TAB as we go.
---
Fake it 'Til You Make it: Learning to fake a break on a bluegrass song
2:00 PM EST or 8:00 PM EST
October 11, 18, and 25
Level: Intermediate
If anyone has ever turned to you at a jam and said, "take it," you know that fear that comes along with these two words! Ummm....how exactly should I "take it."
Improvising is an important part of the bluegrass tradition, and it doesn't come naturally to everyone. In this class we're going to take some practical steps that will help us improvise a break on a bluegrass vocal tune in the key of G.
Class 1
What are the possible melody notes in the key of G?
How to make a reasonable guess to the starting note
Playing the contour of the melody
Kickoffs -- how to start breaks confidently
Class 2
Review class 1 material
Songs with similar chord progressions
How to use double-stops to outline the chord progression
Class 3
Review class 2 material
Finding melody notes around the double-stops
Adding in stock licks
In addition, we will learn a couple improvising games to help stretch our skills, no matter what level you are at. This material is generally approachable for most intermediate bluegrass guitarists who have been in a jamming situation and can follow the chords to a song with rhythm. It's meant to be both helpful and true to the style.
After Each Class You'll Recieve:
PDF reference materials of what we learned
access to a 5-10 minute recap video of what we went over in class
Tips on what to practice
All 3 Classes -- $75