Learn to build bluegrass guitar breaks in this online guitar class
Build Great-Sounding Bluegrass Guitar Breaks That You Can Actually Play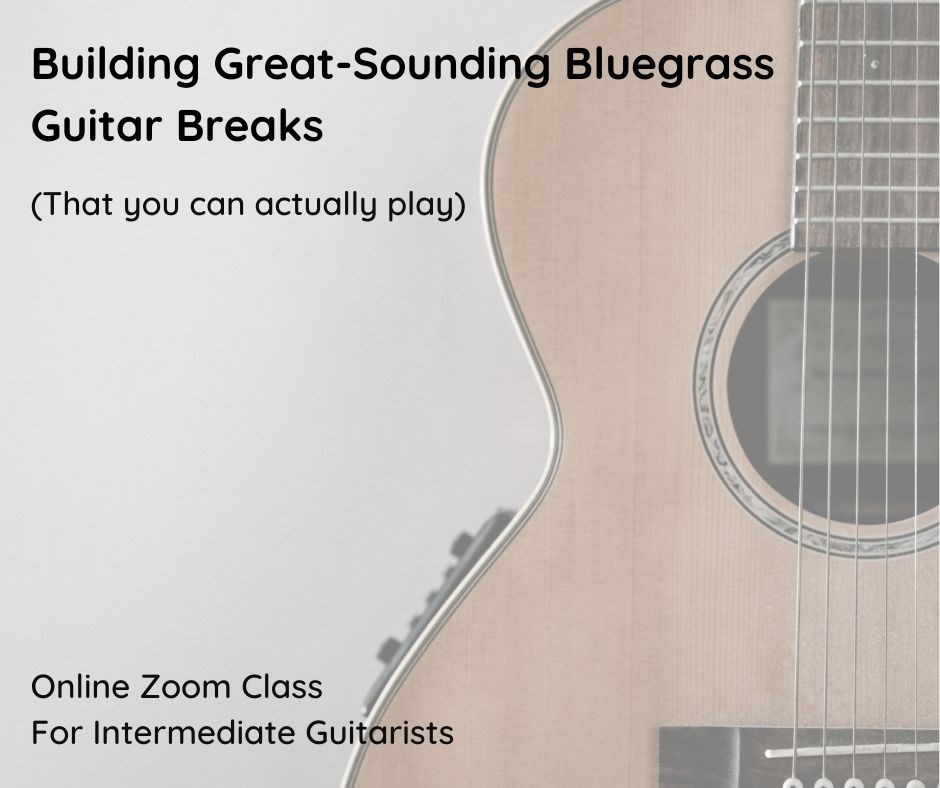 In this online Zoom class, we'll learn to take a basic melody and build it into a great-sounding bluegrass guitar break that you can play by yourself, in a jam, or on stage.

Details:
Online Guitar Class – Zoom meeting
Wednesdays at 8:00 PM EST, April 27-May 18th (4 classes)
New!! European Class, Wednesdays at 2:00 PM EST (8:00 PM CET), April 28-May 18 (4 classes)
Cost: $75 for 4 one-hour classes
Click this button to buy on PayPal:
Do any of these describe your bluegrass guitar breaks?
I can play the melody, but it sounds too basic. How do I play something that still sounds like the song, but is more full and professional sounding?

I can put together scales and licks, but then it doesn't really sound like the song.

I learned some solos from the top players, but there's no way I can play them up to speed.

I learned some licks off the internet, but I have no idea how to use them.

I learned a G scale in 20 different positions on the fretboard, but I still can't play a decent bluegrass guitar break.

I play pentatonic scales on everything. What's wrong with that?

In this class, you'll learn how to build great-sounding bluegrass guitar solos that you can actually play!
Each session, we will build up a solo from the basic melody to a full-fledged bluegrass guitar break you'd be happy to play on stage or in a jam. Along the way, you'll learn concepts and techniques that you can use over and over again to construct great-sounding breaks on bluegrass vocal tunes.
Topics include: making a basic melody more interesting, lead-ins, double-stops, drones, using and creating licks, following the chord progression, various crosspicking rolls and techniques, etc.
Each class, you'll receive access to the
PDF tab arrangemen
t we did in class and a
video of the completed arrangement(s).
I'll also record the zoom meeting to the cloud and share a link to download it, or you can record it to your own computer during the meeting. The classes are interactive, and you can ask questions during the class.
Thinking about Lessons?
Great! I love teaching bluegrass guitar, and would welcome a new student, no matter what level they are at. Many students take weekly or every-other week lessons for a period of time until they have reached a good place where they can continue their studies on their own.
A good teacher can:
Solve problems and offer solutions
Dispel myths
Show you good techniques
Know what the next step is
Listen to your goals and knows how to get you there.
I teach in an individualized way. I listen to a student play, evaluate where they are at, and help them sound their best no matter what level they are at. You don't have to get to some mystical pro level to start having fun playing bluegrass music. You don't need 10,000 hours before you can play a song that sounds good.
I am currently booking online lessons through the "Lessons with Marcel" website.
Click Here for more information about regular online lessons
Every teacher occasionally gets cancellations--check Andy's schedule below, and you could book a time this week (or sometimes even the same day).
Check to schedule to book an individual time slot:

Join Andy at Kaufman Kamp this summer!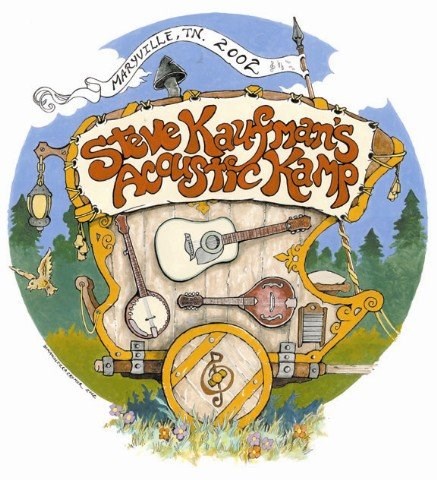 Join Andy this June at Kaufman Kamp!
Steve Kaufman's Acoustic Kamp is one of the largest bluegrass and acoustic music camp in the United States. This year, I'll be on the flatpicking guitar team with Jim Hurst, Mark Cosgrove, Rebecca Frazier, and Chris Newman. These are not only amazing guitarists, but are also renowned teachers. Immerse yourself in a week of music, learn and play lots of guitar, and make new friends who share the same passion for music that you do. Held on the beautiful campus of Maryville College in Maryville, Tennessee. Click here for details!
---